Features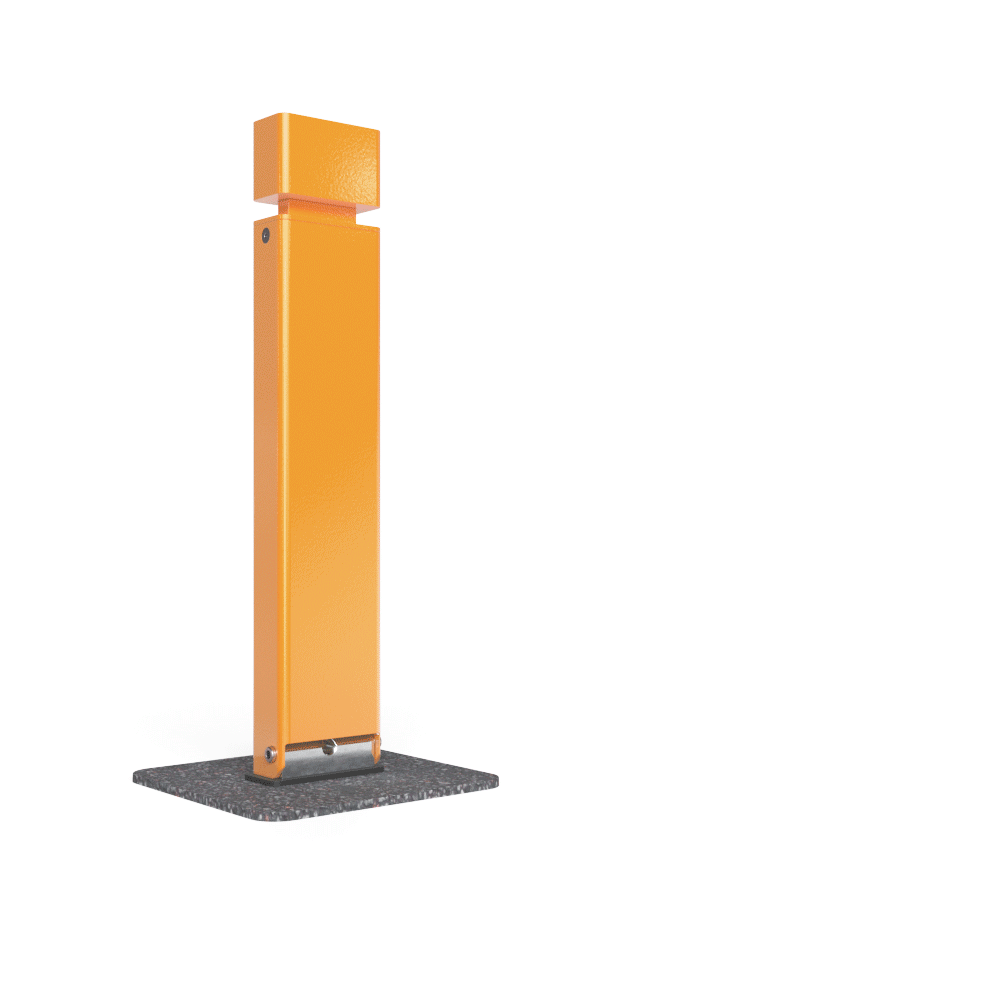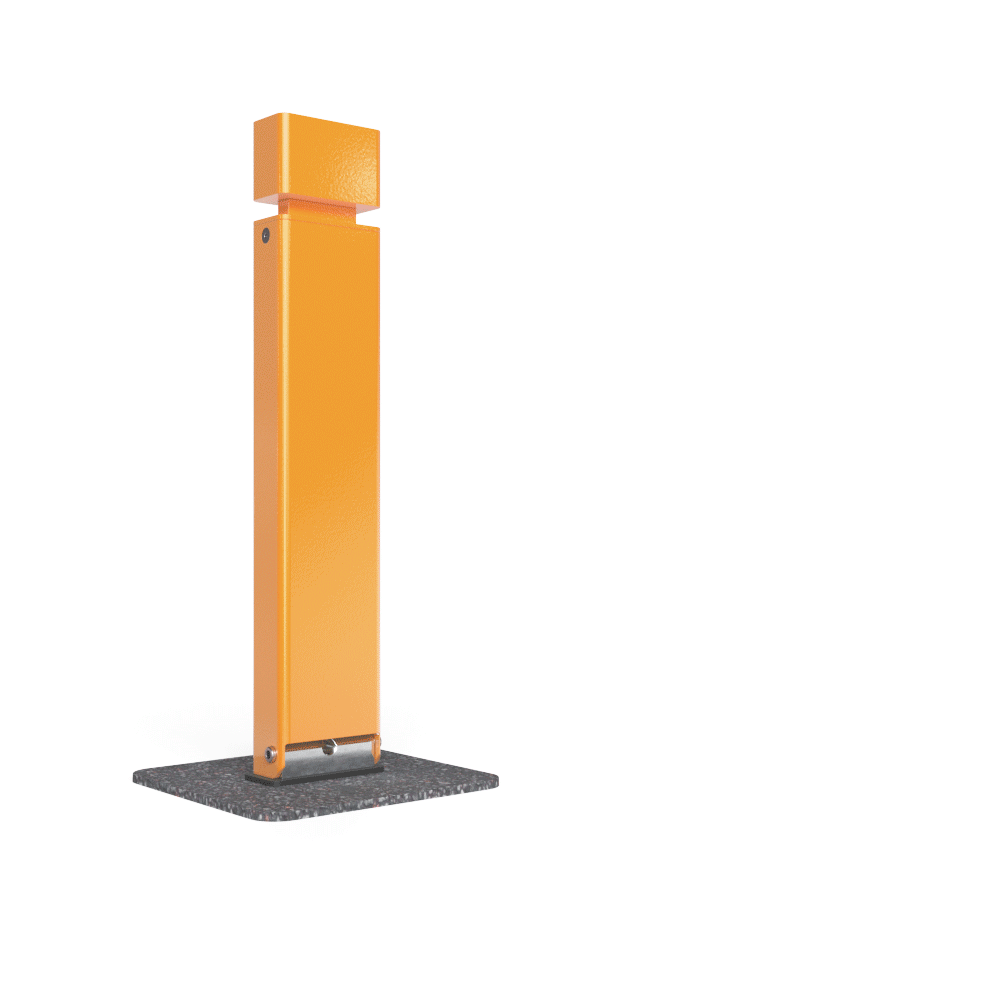 The best of bollard functionality and design
Patented breakaway feature, allowing emergency access and easy & quick post repair
Unlocks and folds down quickly
Once collapsed the bollard body is only 3-5/8″ off the ground, allowing vehicles to pass over easily
Folds up and re-locks rapidly
Two base types for versatile installation
Three different head style options
Available in over 80 colors & finishes
Product Portfolio
Browse All Collapsible Products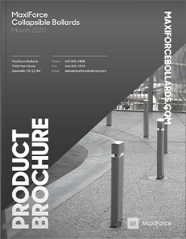 Get the latest Collapsible Product Brochure
Easy operation

Patented
Hydrant-Wrench
Operated Bollard

Ideal for locations requiring traffic control while allowing designated vehicles to pass quickly with the use of a fire hydrant wrench. The standard hydrant nut is a 5-sided AWWA nut, which matches fire hydrant wrenches carried by most first responders. (Other nut styles are available.)
---

Standard Padlock
Operated Bollard

Ideal for designated locations where traffic control is required and only authorized vehicles and personnel with the appropriate key may unlock the bollard and pass through.
---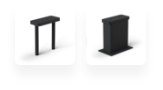 Two Base Types
MaxiForce Collapsible Bollards have two base options to fit installation requirements. Collapsible bollard operation is not affected by the choice of the base type.
Note: The Universal Base is no longer part of our portfolio, but it is still available upon request

---

Choice of Head Styles
MaxiForce Bollards have several style options, including a choice of head styles to top the bollard bodies. All three bollard head styles are removable and interchangeable. All heads attach to the bollard body mechanically.
---
Customizable Body
Footings are engineered for easy installation taking advantage of standard sized augers and heavy equipment buckets.
---

Patented BreakawayFeature
MaxiForce's patented breakaway insert is a distinctive feature allowing emergency and safety personnel immediate access beyond the bollard without leaving the vehicle, saving valuable response time. It works by allowing the unit to "breakaway" from the base, permitting access without using the wrench operation or removing the padlock.
The Breakaway System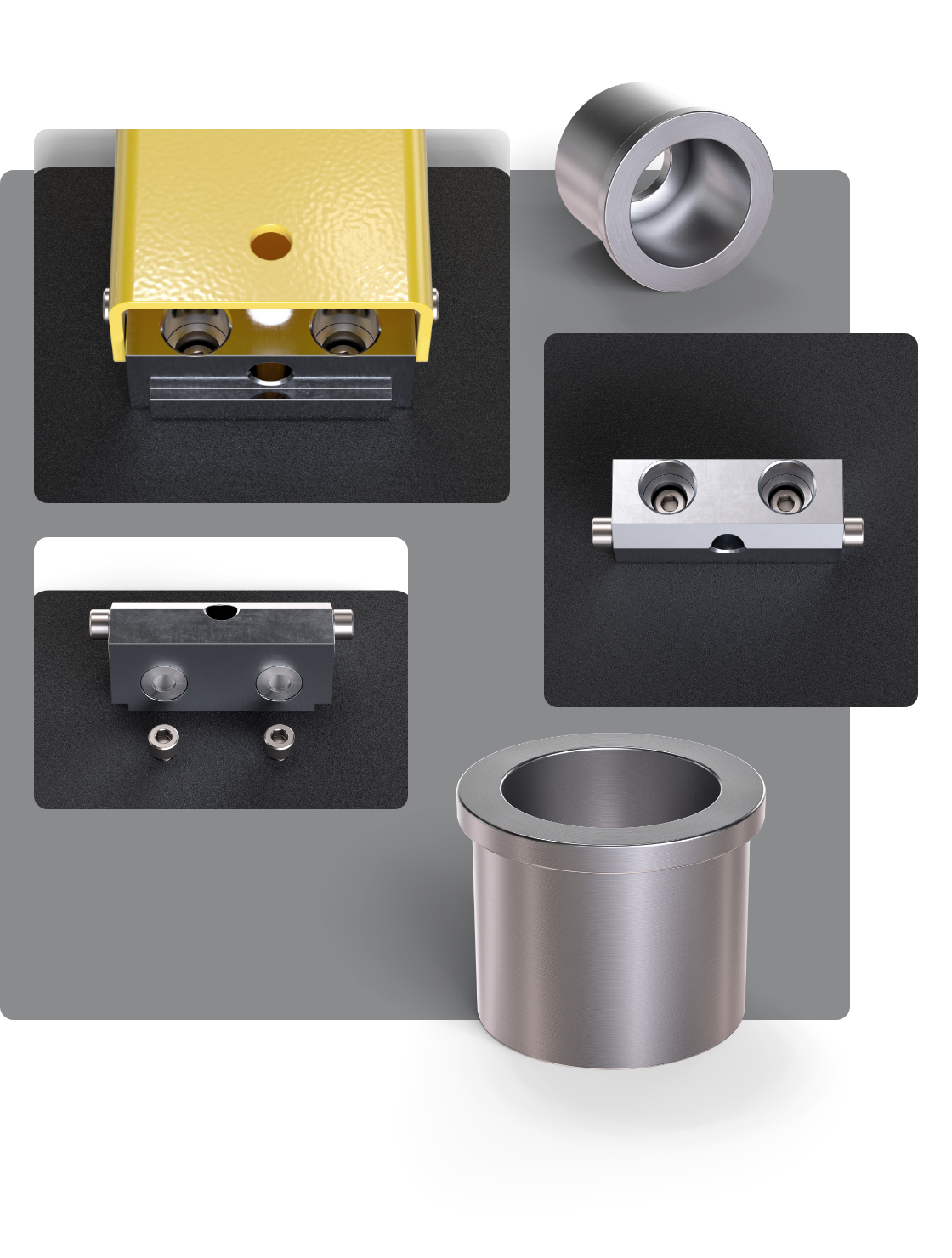 Patented Technology
All MaxiForce Collapsible Bollards feature the unique and patented breakaway system allowing emergency first responder vehicles to push the unit over when life safety situations arise, saving valuable response time. The breakaway system works by allowing the unit to "break away" from the base, permitting access without using the wrench operation or removing the padlock. Two unique inserts are designed to shear when pushed by a vehicle. This gives the vehicle access without causing significant damage to the bollard or vehicle. By replacing the inexpensive inserts, the bollard can be placed back into service quickly by the use of a standard Allen wrench.
---
Shop Inserts
Standard Colors
TIGER drylac
Apart from our standard colors,
MaxiForce bollards are available in over
80 colors & finishes.

All Colors & Finish Charts
High-Reflective
White

Safety Yellow

Black Semigloss
Silver

Roman Bronze
Matte

Black Matte
Haze Grey
OGF
Bengal Black
Glossy
Black Fine
Texture
Sizes
Standard Height: 32'' above the finished
surface
MaxiForce Collapsible Bollards are available in custom sizes according to your needs.
For more information about custom orders, please contact us at:
[email protected]
Typical Applications
Fire lanes & alleyways
Emergency entrances
Bike trails & trailheads
Office buildings
School grounds
College campuses
Playgrounds & parks
Parking areas
& more
Compliance

All MaxiForce products, material content and
manufacturing processes are in compliance
with industry codes, standards, and
performance-based measures.
In addition, we always offer a complimentary consultation service that supports your LEED certification efforts.
The shortcuts to everything you need. We are here to help!