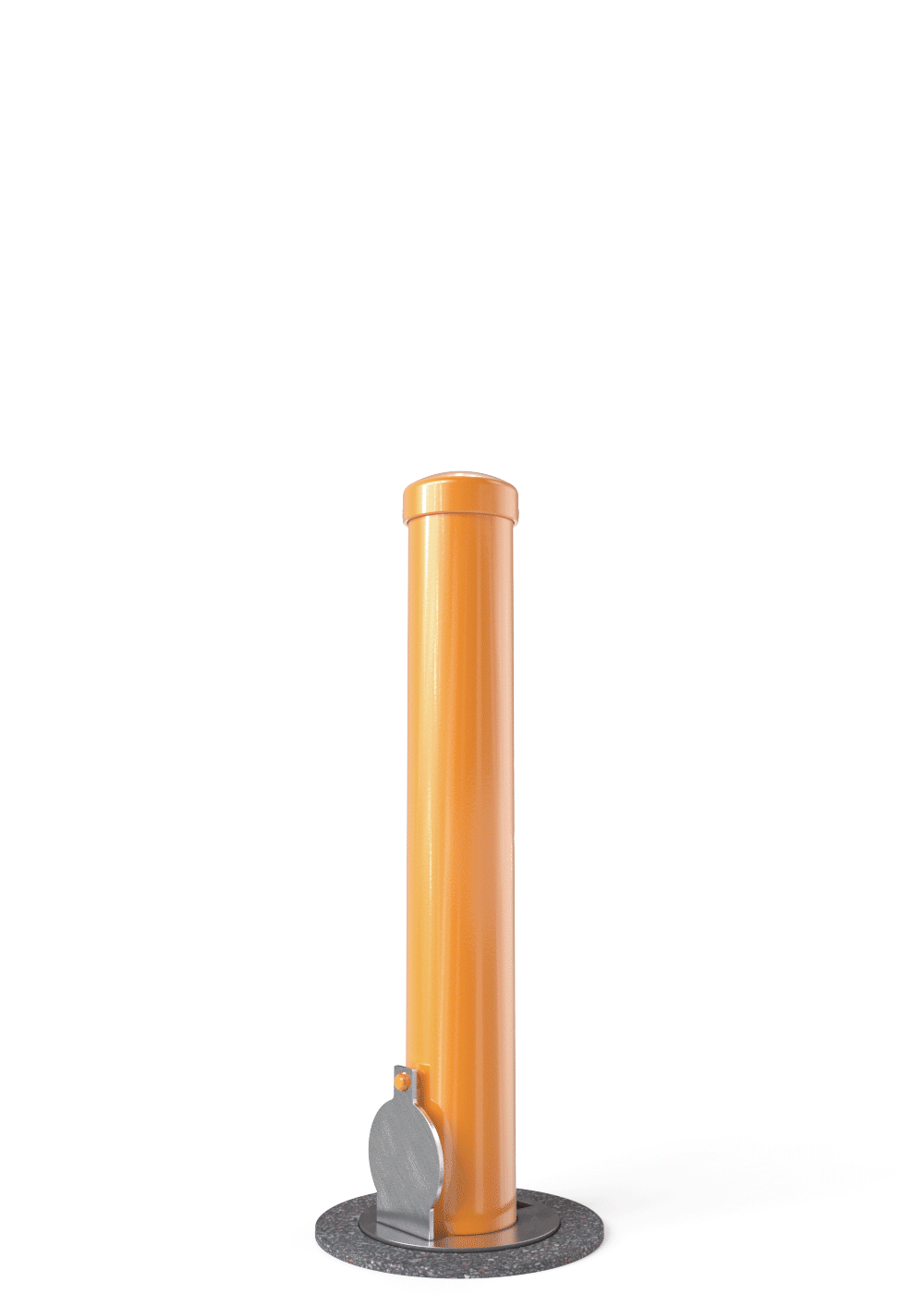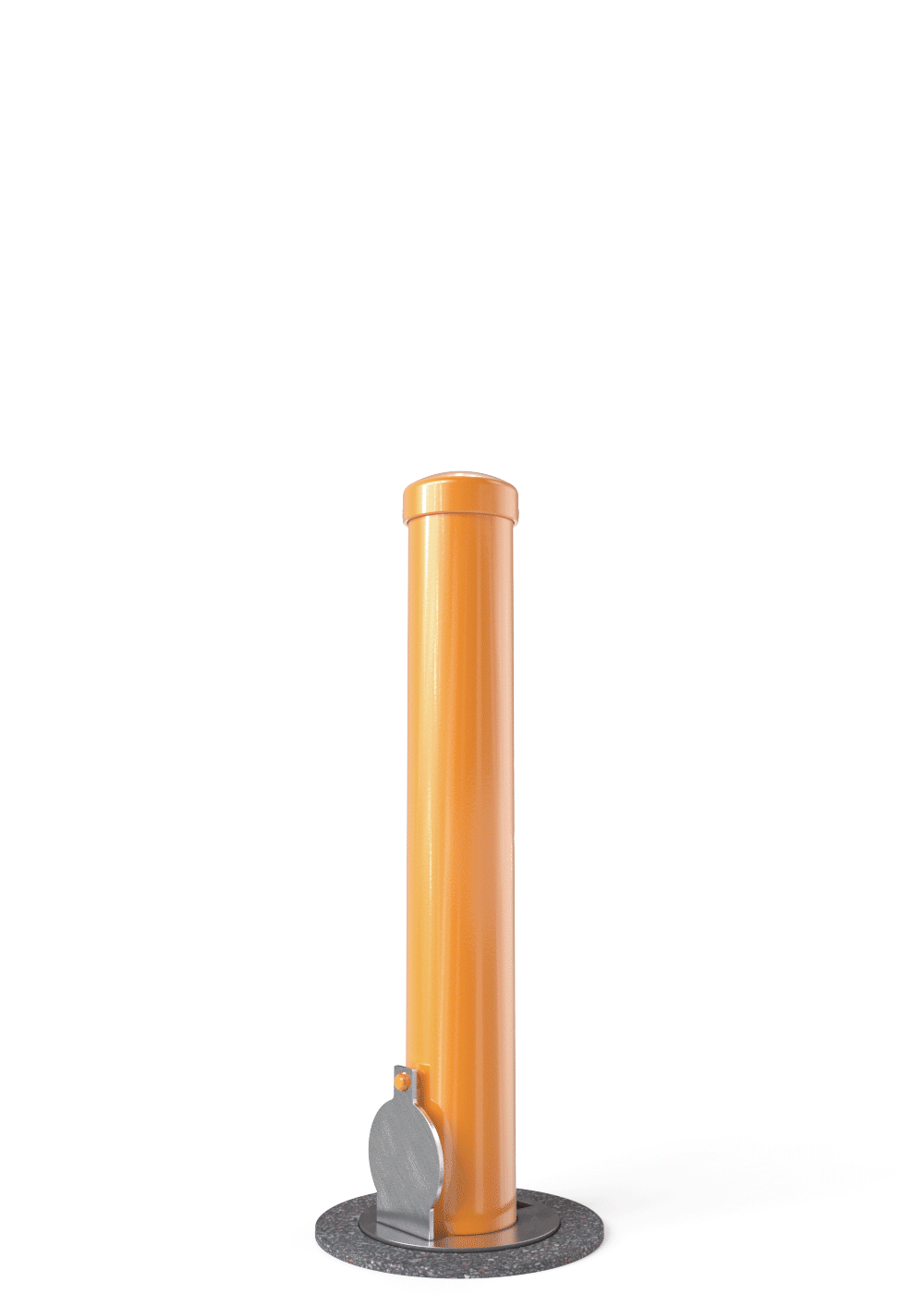 Features
An optimum combination of security, flexibility, and design
Installation details available to meet most US-based impact ratings
Unlocks and removes quickly – Engineered to only require an 8" lift to remove the bollard from the ground (standard models)
Available in non-locking, padlocking, or key operated models
Available in diameters from 3" through 10"
Two base types for versatile installation (plate covered or hinge top)
Multiple head style options
Wide variety of sizes to fit customization needs
Available in a wide selection of powder coat colors and finishes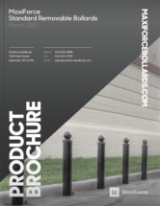 Get the latest Standard Removable Product Brochure
Easy operation

Standard Padlock
Operated Bollard

Ideal for designated locations where traffic control is required and only authorized vehicles and personnel with the appropriate key may unlock the bollard and pass through.
Standard Keylock
Operated Bollard
Ideal for locations that require traffic control while allowing designated vehicles to pass quickly with the use of a key. Since the locking mechanism is built into the bollard body, there is no risk of losing a padlock. The lock is located at a convenient height to operate, and removes the challenges associated with padlocks being covered in snow or ice. Multiple lock type options available upon request.
---

Two Base Types
MaxiForce Removable Bollards have two base options to fit installation requirements.Removable bollard operation is not affected by the choice of the base type.

---

Multiple Head Styles
The MaxiForce Standard Removable line of bollards offers several head style options: with bolt on and welded on options available. All bolt on heads are easily removable and interchangeable. *Note: Head style options vary, based on bollard diameter and operation.
---
Multiple BodyDiameters Offered
Standard Removables come in several sizes: From 3" to 10" – to fit your customized needs.
---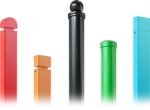 Wide Variety
MaxiForce Removable Bollards offer numerous customization options – from the size of the body to the color and final finish of the bollard.
Standard Colors
TIGER drylac
Apart from our standard colors,
MaxiForce bollards are available in over
80 colors & finishes.

All Colors & Finish Charts
High-Reflective
White

Safety Yellow

Black Semigloss
Silver

Roman Bronze
Matte

Black Matte
Haze Grey
OGF
Bengal Black
Glossy
Black Fine
Texture
Sizes
Removable Bollard Body Standard Height: 36''
above finished surface (head styles add
additional height)
MaxiForce Standard Removable Bollards are
available in custom sizes according to your
needs.
For more information about custom
orders, please contact us at:[email protected]
Typical Applications
Areas needing limited access
Temporary road & alleyway closures
Utility protection
Office buildings
Educational facilities
Playgrounds & parks
Shopping centers
Military & Government facilities
& More
Compliance

All MaxiForce products, material content and
manufacturing processes are in compliance
with industry codes, standards, and
performance-based measures.
In addition, we always offer a complimentary consultation service that supports your LEED certification efforts.
The shortcuts to everything you need. We are here to help!